Accessibility and the future
I was kindly asked to give a talk about my work at the recent Make 2023 Seminar run by TUD (and hosted by the School of Media) in Blanchardstown. [Picture above of the panel with James Kelleher, Dave Pollard, Nikki Collier, Josh and our host/ master of ceremonies, Ian]
The theme for this year's seminar was "THE FUTURE OF DIGITAL MEDIA," The future of digital media is a rapidly evolving landscape with exciting potential for innovation and growth.
The seminar covered diverse areas such as Accessibility, Collaboration, Universal Design, Innovation, Sustainability, Social Impact, Your Creative Practice After Covid, Creativity and Mental Health, AI /Impact on Making/Creativity, and Universal Design and the Inclusive Mindset.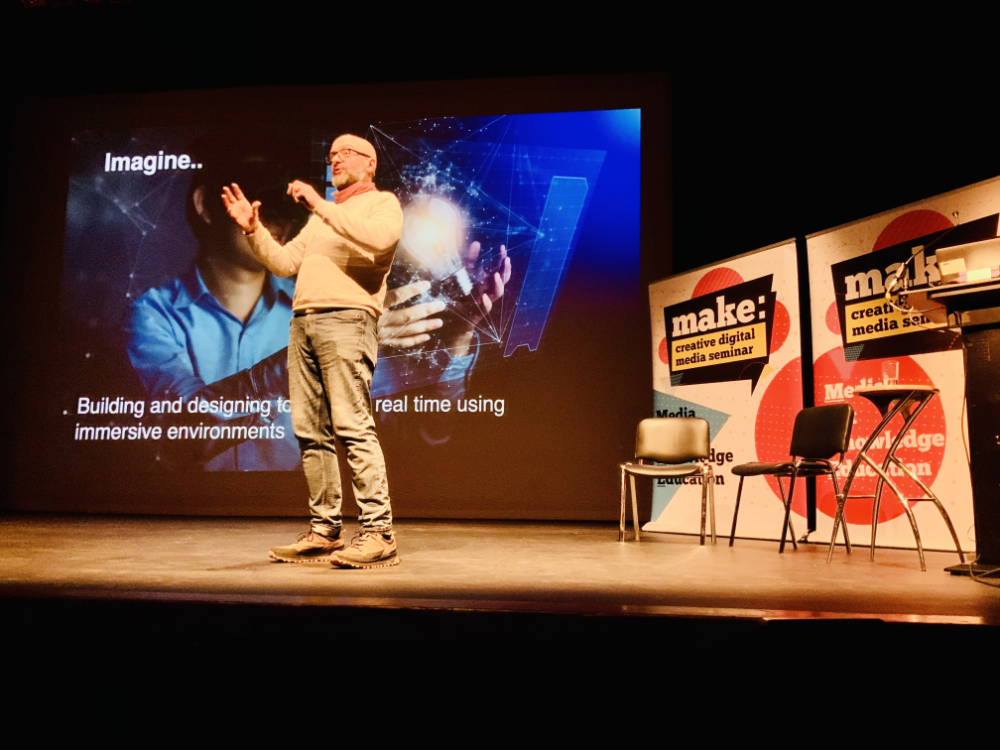 AI , Accessibility and Felt
Not words we commonly hear in the same string, but such is our world today. It was great to be talking about accessibility to real humans IRL and not just on the Zoom machine.
There were really interesting presentations and demos of AI mashups by James Kelleher from Publicis, who spoke about emerging technologies that mimic biological processes and the new pressures these technologies bring to bear on the organic and social environment.
This involved some funny, sometimes scary and at times stunning works generated by AI. There were interesting parallels with some of my own research in emerging technology. As a budding artist I think I would feel quite intimidated by the capabilities of machines, and I did comment that young artists should not let the superficial quality or apparent sophistication of new AI art, undermine the value of their own narratives, their own stories.
We heard about the work of Nikki Collier who expressed her feelings on heritage, materials, and origin, using Irish felt tweed. She happens to be an expert in AI but chooses the far more interesting world of art and felt to exist in (wise choice). Felt stained glass is a thing.
Nikkis felt covid toys were great fun, and there were many other colourful and vibrant art installation and objets d'art on display. Good art as by product of rage was a theme. I dig that.
Finally, there was a nice talk by David Pollard who did his Phd in Inclusive Design and Creative Technology Innovation at SMARTlab, University College Dublin (UCD) who works on accessibility for EITS Health.
Hanging with the yoof
What was most interesting about the day for me, was not just the technical discussion and great presentations but the post presentation Q&A talk.
There was a nice rapport between us all, as we shared our stories about our life experiences and how we got where are today (you mean, I'm a success * shocker). It was fun, as the audience was undergrads (full of hope and potential etc) and as I am someone who still doesn't know what he wants to be when he grows up - I was down with getting a chance to share our own back stories with the 'yoof'.
I wasn't the only one whos life and 'career path' (sic) for sure, took the scenic route. Random disaster and failure somehow converging with the path of hope and opportunity.
I hoped by sharing some of that, it could reassure and encourage some of the younger people in the audience to follow their stars. It will all be ok in the end, and if it's not ok, it's not the end.
I was chuffed to be asked to speak at Make 2023, mnay thanks to Ian for great moderation and Nicola and Margaret Kinsella for asking me. I had a blast.